Body Beast DVD Package
Pack on up to 20 pounds of muscle in 90 days with Body Beast™. Created by world-class trainer and former "Mr. Israel," Sagi Kalev, this proven growth-inducing program includes 12 extreme workout DVDs, plus valuable fitness tools to help you get healthy, increase your confidence, lose fat, and give you the physique of a champion.
Body Gospel®
Give praise. Get RESULTS. Body Gospel  includes fat-burning cardio workouts set to uplifting gospel music, muscle-firming resistance bands, and a complete nutrition plan created by inspirational fitness expert Donna Richardson Joyner to help you transform your body, mind, and spirit. It's the praise that pays in so many ways!
Brazil Butt Lift® Master Series Base Kit
Launch your booty sculpting sky-high in just 30 days with Leandro's advanced breakthrough moves and tools. The 30-day Master Series program includes 3 new workouts that work multiple muscle groups at the same time, plus smart tools to help you sculpt lean, sexy muscle and get the tight, sexy bikini body of your dreams.

Brazil Butt Lift®
Trainer to world-famous supermodels, Leandro Carvalho combines Brazilian dance, cardio, and his signature lower-body sculpting moves to lift, firm, and shape your behind for a rear view you've only dreamed about. Leandro's proven TriAngle Training method works all three major muscles of the buttocks from multiple angles.
ChaLEAN Extreme®
Get ready to burn fat, boost your metabolism, and get lean with ChaLEAN Extreme®, the extreme workout system from Chalene Johnson. Itís a fact: The more lean muscle you have, the more fat you burn. You can lose up to 60% of your body fat in just 3 months and see visible results every 30 days, because MUSCLE BURNS FAT.
Get Real with Shaun T
Get ready to get moving, get down, and GET REAL! These two HEALTHY and ENERGIZING routines focus on cardio and strength training to burn calories and build muscles. You sculpt a lean, healthy body to get the energy you need to juggle family, friends, school, and all the other stuff that you've got going on. FREE calendar and snack guide!
Hip Hop Abs®
Dance your way to hot, sexy abs and burn the fat off your entire body with Shaun T's fun, exciting dance program! You'll "Tilt, Tuck, & Tighten" your way to 6-pack abs without doing a single sit-up or crunch. Get ready to lose weight, burn fat, and sculpt flat, sexy abs! 4 amazing routines! Get in the groove with Hip Hop Abs!
Ho Ala ke Kino
Experience the rejuvenating effects of a stretching and yoga program unlike any other! Ho' Ala ke Kino is the Hawaiian secret to energy, grace, and vitality. Ho' Ala ke Kino means "awaken the body," and that's exactly what you'll experience through this remarkable program, performed in a beautiful island setting.
INSANITY 60-Day Conditioning Program
Shaun T will push you past your limits with 10 discs packed with cardio and plyometric drills with intervals of strength, power, resistance, and core training. No equipment or weights are needed, and you don't have to be in extreme shape to do it. As long as you're ready to dig deep, Shaun will help you get insane results in just 60 days.
Insanity—The Asylum
Winning the game, the race, the match starts now with INSANITY: THE ASYLUM™ workout program. Former track-and-field star Shaun T will push you to Dig Deeper® than ever with sports-specific training and drills inspired by pro athletes. During this 30-day program, he'll push you to build your speed, coordination, agility, strength, and power.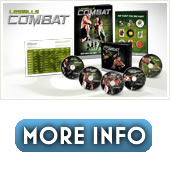 Les Mills COMBATThis is the ultimate mixed martial arts–inspired workout program! Get ready to punch, kick, block, and strike your way to an outrageously shredded body with 7 calorie-blasting and muscle-defining workouts.
Les Mills PUMP
This barbell-based rapid weight loss and accelerated strength-training program shreds calories to help give you the ultimate tight, toned, and lean body you want. The secret is THE REP EFFECT™, which requires that you use lighter weights at higher repetitions so you can burn up to 1,000 calories per workout and get leaner faster.