Brett Hoebel, Fitness Expert
Known as "El Capitan" and "The Dues Collector," Brett is a sought-after fitness, strength, and nutrition expert in both New York and Los Angeles, with a background in biomedical science and the Afro-Brazilian martial art known as capoeira. In the fitness industry for over 15 years, Brett has helped shape up some of Hollywood's finest physiques and traveled the globe presenting his programs. He was the cohost of Fit Family on Discovery's FitTV, and has appeared on The View,Good Morning America, Fox News, and the WB Morning Show. Brett is also a recurring fitness expert for many top-tier magazinesincluding Vogue, Allure, Elle, Shape and Self, while his signature exercise programs have twice earned "Best of New York" awards from New York Magazine.
RevAbs® – Your 90-Day Ab Solution
With RevAbs, you can get the sexy six-pack abs you've always wanted. All it takes is a little hard work and proven Abcentrics™ training technique. You will burn off fat and work your entire core from 6 different angles, revealing your RevAbs six-pack—FAST! It's so effective, you can lose up to 10 pounds in the first 2 weeks. This is the real deal—RevAbs!
Chalene Johnson, Fitness Expert
Chalene Johnson started studying dance and martial arts at age 3. She continued training in tae kwon do, dance, and aerobics while a student at Michigan State University. After moving to California in the early '90s, she created a group exercise class that combined the sexiness of dance, the hip feel of funk, and the power and strength of kickboxing. Soon Chalene was teaching other instructors how to deliver her unique brand of fitness, and in 1998 Turbo Jam® was born! Chalene's company, Powder Blue Productions, trains and certifies instructors to teach Turbo Jam. Today the program is featured at over 2,000 health clubs and fitness chains in the U.S. and in countries across the globe.
Turbo Jam
Kickboxing and body-sculpting workouts set to the hottest dance music, Turbo Jam® is the workout that doesn't feel like work. Chalene Johnson packs each workout with calorie-blasting cardio dance moves set to the hottest music ever. You're scorching fat at a rate of up to 1,000 calories an hour. It's fast. It's fun. It works.
ChaLEAN Extreme®
Get ready to burn fat, boost your metabolism, and get lean with ChaLEAN Extreme®, the extreme workout system from Chalene Johnson. Itís a fact: The more lean muscle you have, the more fat you burn. You can lose up to 60% of your body fat in just 3 months and see visible results every 30 days, because MUSCLE BURNS FAT.
TurboFire®
So forget the excuses. Forget the gym. Now the hottest fitness classes come to you. This 90-day program will help you burn up to 9x more fat and calories than regular cardio does. To help you get started, TurboFire includes two low-impact workouts, plus the Fire Starter Class, which shows you the right form for each TurboFire move.
Turbo Jam® Fat Burning Elite
Get ready to fire up your results with the next level of Turbo Jam! Chalene and her crew are back with more of the Turbos and more fun! You get 5 explosive workouts plus you'll get 2 new calorie-blasting workouts and 2 FREE sculpting tools—Chalene's amazing Turbo Sculpting Band and her Thigh Toning Band for a sexy and shapely body.
Turbo Jam Live
Experience all the fun and excitement of one of Chalene's classes "live," right in your own home! With trainer Chalene Johnson. Includes 2 "live" workouts: Cardio Party Remix and Booty Sculpt + Abs. Now for the first time ever, you can experience all the fun and excitement of one of Chalene's classes right in your own home!
Debbie Siebers, Fitness Expert
Over the years, Debbie Siebers has developed and perfected a host of challenging exercise routines that target specific problem areas of the body. She began her fitness career as a personal trainer for Body by Jake® and has served as a consultant for fitness projects that have included Bowflex® and Body Vibe. She has been featured on numerous television networks and programs, including CNN, E! Entertainment Television, Fit TV, and LIVE with Regis and Kelly. In 1999, Debbie was approached by Beachbody CEO Carl Daikeler to create the Thin Thighs Guaranteed!™ video, based on methods she perfected to slim and shrink the trouble spots on her celebrity clients. The popularity of that workout led to the development and marketing of the highly successful Slim in 6® Beachbody video program. In 2004, Slim in 6 was the top fitness program on TV. Debbie is a certified member of the Aerobics and Fitness Association of America and currently resides in Los Angeles.
Slim in 6® Rapid Results
Slim in 6 will reshape your body in 6 short weeks. The secret is Debbie Siebers' exclusive Slim Training® technique, which combines fat-burning cardio with light resistance moves to help you slim and sculpt your body without bulking up. You'll shrink your midsection and get slim, sexy thighs, hips, and arms.
Slim Series® Express
You can achieve the same great body-slimming results you got with Slim in 6® and Slim Series® in half the time! Thirty minutes a day is all it takes to jump-start your metabolism, shed fat, and reveal a lean, sculpted body. These Debbie Siebers workouts feature real Slim in 6 success stories to keep you motivated to succeed.
Leandro Carvalho, Fitness Expert
Lingerie models and supermodels seek out "Brazilian Butt Master" Leandro Carvalho to get their rears into runway shape. He created Brazil Butt Lift® to show you how to take your booty from saggy to sexy—fast. Whether your butt is too big, too flat, or even pear-shaped, you'll follow a customized plan to reduce, shape, and lift your behind for a rear view you've only dreamed about. Unlike traditional butt exercises or machines, Leandro's proven TriAngle Training method works your butt from multiple angles. Enjoy sizzling Brazilian dance, heart-pumping cardio, and signature lower-body sculpting moves that reduce your hips, slim your thighs, and help you shape the best butt of your life. You even get TriAngle Training workout cards, a fat-burning food guide, a booty resistance band, and a 6-day supermodel slimdown plan to boost your results. You have no excuse not to work your butt off.
Brazil Butt Lift® Master Series Base Kit
Launch your booty sculpting sky-high in just 30 days with Leandro's advanced breakthrough moves and tools. The 30-day Master Series program includes 3 new workouts that work multiple muscle groups at the same time, plus smart tools to help you sculpt lean, sexy muscle and get the tight, sexy bikini body of your dreams.
Brazil Butt Lift®
Trainer to world-famous supermodels, Leandro Carvalho combines Brazilian dance, cardio, and his signature lower-body sculpting moves to lift, firm, and shape your behind for a rear view you've only dreamed about. Leandro's proven TriAngle Training method works all three major muscles of the buttocks from multiple angles.
Shaun Thompson, Fitness Expert
Shaun T. is a native of New Jersey who trained at Rowan University, where he received his B.S. in Sports Science with a minor in Theater/Dance. Shaun has danced in theater, TV, commercials, and movies, including The Ten Commandments, Pippin, Applause, Six Feet Under, and The Tonight Show with Jay Leno. Artists he has worked with include Mariah Carey, Nick and Aaron Carter, Elephant Man, Angie Stone, and Deborah Cox. He has taught at many fitness and dance centers around Los Angeles. For the Beachbody program Kathy Smith's Project:YOU®, he choreographed eight instructional videos. Inspired by this experience, Shaun created Hip Hop Abs®, a dance-based cardio program specifically designed to tone and define the abs and core. His collaboration with Beachbody has continued with Shaun T's Dance Party Series®, Get Real with Shaun T™, Shaun T's Fit Kids® Club, Rockin' Body®, and his latest project, the extreme new workout INSANITY®. Shaun T. currently lives in New York.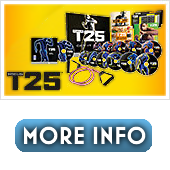 Focus T25
25 Minutes. 5 Days a Week. 100% Results.
The only thing standing between you and the results you want is TIME. Shaun T experimented for the last year to design a program that delivers the same kind of results you'd expect from an hour-long program, in under 30 minutes.
The result is FOCUS T25!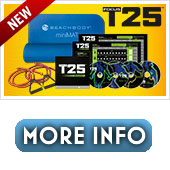 T25 GAMMA
Want to get it done better and faster? Prepare to take on the next 4 weeks of FOCUS T25™. These advanced GAMMA Cycle workouts and training tools were specially designed to burn more fat, and help you carve lean, strong muscles, fast. This expansion pack is also available in a DVD-only offering.
INSANITY 60-Day Conditioning Program
Shaun T will push you past your limits with 10 discs packed with cardio and plyometric drills with intervals of strength, power, resistance, and core training. No equipment or weights are needed, and you don't have to be in extreme shape to do it. As long as you're ready to dig deep, Shaun will help you get insane results in just 60 days.
Insanity—The Asylum
Winning the game, the race, the match starts now with INSANITY: THE ASYLUM™ workout program. Former track-and-field star Shaun T will push you to Dig Deeper® than ever with sports-specific training and drills inspired by pro athletes. During this 30-day program, he'll push you to build your speed, coordination, agility, strength, and power.
Insanity—The Asylum Volume 2
In THE ASYLUM Volume 1, Shaun T trained you inside the Athletic Matrix to amp up your agility, speed, and power. Now Shaun takes your skills to the next level with his INSANITY: THE ASYLUM Volume 2 workouts—the next 30 days of pro athlete training designed to get your body leaner, faster, and stronger than ever. So you not only defeat the competition…You CRUSH IT!
Hip Hop Abs®
Dance your way to hot, sexy abs and burn the fat off your entire body with Shaun T's fun, exciting dance program! You'll "Tilt, Tuck, & Tighten" your way to 6-pack abs without doing a single sit-up or crunch. Get ready to lose weight, burn fat, and sculpt flat, sexy abs! 4 amazing routines! Get in the groove with Hip Hop Abs!
Rockin Body®
Shaun T is back! The creator of the best-selling Hip Hop Abs® has created a revolutionary new program to burn the fat off your ENTIRE body! Get a hot new Rockin' Body with Shaun T's high-octane dance party that will have you sweating off the pounds to all your favorite dance-floor hits! You'll dance and sweat to hits like "Holiday," "I'm Coming Out" and "I Love Rock N' Roll"!
Get Real with Shaun T
Get ready to get moving, get down, and GET REAL! These two HEALTHY and ENERGIZING routines focus on cardio and strength training to burn calories and build muscles. You sculpt a lean, healthy body to get the energy you need to juggle family, friends, school, and all the other stuff that you've got going on. FREE calendar and snack guide!
Shaun T's Dance Party Series DVD
We cut Shaun T loose and these new dance workouts are out of control! Beachbody® dancer/choreographer has gone all-out to create the most intense and innovative dance routines ever released. You get 4 new workouts including Shaun's Booty Shakin' ChallengePlus FREE 5minute Ab Blaster. Shaun T Guarantees Results or Your Money Back. Get this party started!
Shaun Ts Fit Kids® Club
Shaun T's got a new workout FOR KIDS ONLY! Get down and get fit with Shaun T's Fit Kids Club workouts for kids ages 7 and up! It's all about sweat, strength, and FUN with mad awesome dance moves that keep you healthy and energized! It doesn't matter what your size or shape is—or even if you can't dance.
Tony Horton, Fitness Expert
Meet Tony Horton, the Master of Motivation behind P90X®, the #1 fitness infomercial in America. If you want to improve your health, physique, and lifestyle, then you want Tony. Over the last 17 years, Tony has acquired and perfected his fitness expertise, which he's shared with countless individuals across the country. From professional athletes, sports teams, movie stars, and recording artists to the everyday Joe and Jane, Tony has helped people turn their lives around with the perfect mix of encouragement, humor, discipline, and fun. His expertise includes post-rehabilitation training, advanced stretching, yoga, weight/resistance training, cardiovascular/aerobic training, boxing, and kickboxing, plus circuit, cross, and interval training. Aside from his powerful programs with Beachbody and operating ASH Fitness, a state-of-the-art training facility in Santa Monica, California, Tony hosts a minimum of three fitness camps per year, where he personally helps people meet their goals. He is in the process of writing his first book and is in discussions to star in his first reality show. Tony has been featured in various national publications, like Men's Fitness, Fitness, People, LA HEALTH, and Self, and has made multiple appearances on national television, including CNN, NBC, and CBS. His training techniques have produced amazing results for celebrities like Grammy-winning rock goddess Sheryl Crow, Without a Trace's Poppy Montgomery and Roselyn Sanchez, former New York Giant Carl Banks, and current Philadelphia Eagle David Akers, who credits the P90X Extreme Home Fitness program with helping him set the NFL record for most consecutive post-season field goals this year. With a whopping $200 million in sales and an extremely impressive library of fitness programs, like the highly acclaimed Power 90®, P90X and P90X2, this East Coast native incorporates his personal training experience and engaging personality to get people of all ages moving and digging deep to get their best results. His most recent time-saving program, 10-Minute Trainer®, is a breakthrough program for the busiest people, featuring 10-minute workouts that are short on time but long on results. BRING IT, Tony!
P90X®
Trainer Tony Horton will transform your body in just 90 days. P90X® is a revolutionary system that challenges your muscles and give you extraordinary results. The secret is an advanced training technique called Muscle Confusion™, which accelerates your results by constantly introducing new moves and routines so your body never plateaus.
P90X2®
P90X2® continues the Muscle Confusion™ with the latest cutting-edge training technique used by pro sports trainers. Twelve workouts help you focus on your abs/core, powerful athletic function, and lightning-bolt agility. Expect to chisel your body and virtually blast right through your plateaus.
P90X ONE on ONE® with Tony Horton
Have you hit a muscle building plateau? Break through the plateau with celebrity trainer Tony Horton's workout series Tony One On One. Constantly introducing new workouts will keep your muscles "confused." Work out with Tony in his own gym, mano a mano. You will see Tony sweat and suffer just like you. It's like working out with a buddy!
P90X Plus
If you love P90X® and you're saying, "Give me more," or, "I need a challenge"—then here it is, the P90X Plus Series. Tony Horton takes your P90X workouts to the next level with never-before-seen workouts and brand-new moves all set to hot music created exclusively for P90X Plus by Jason Scheff, lead singer of the band Chicago!
10-Minute Trainer
Make faster progress with even more of Tony's superefficient 10-minute workouts and tools to get even more rapid results. You get the entire 10-Minute Trainer® base kit, plus 6 additional 10-minute workouts, a heavier resistance band, and the 10-Day Lean Jean plan—everything you need to get results!
Power 90® In-Home Boot Camp
Total Body Transformation in 90 Days! This in-home boot camp for dramatic body transformation uses Tony's Sectional Progression™ technique, which gives you an effective workout in as little as 30 minutes! With Tony's Fat Burning Express plan, you can lose up to 10 lbs. and 10 inches in just 6 days!
Power Half Hour 30-Minute Workout
Each workout combines both cardio and targeted body sculpting for maximum results in just 30 minutes a day. With trainer Tony Horton. The Power Half Hour program includes 5 fast and effective fat-burning and muscle-toning videos for your key areas: abs, thighs, buns, arms, chest, and shoulders.
Tony and the Kids!
Give your kids something to jump about! It's Tony & the Kids!, the fun and stimulating exercise program created just for kids (young and old!) by Tony Horton with Judi Williams. There's never been a better way to get your kids excited about exercise and give them a fun way to burn off that excess energy! Get the kids together and get in action!
Tony and the Folks!
It's never too late to get fit! Now there's a great way for anyone age 55 and up, with the help of Tony Horton himself! It's Tony & the Folks! A fun half hour of fitness for anyone who wants to ease into a new exercise program. You'll get the heart pumping and blood flowing with each low-impact exercise presented in this program.
Ho Ala ke Kino
Experience the rejuvenating effects of a stretching and yoga program unlike any other! Ho' Ala ke Kino is the Hawaiian secret to energy, grace, and vitality. Ho' Ala ke Kino means "awaken the body," and that's exactly what you'll experience through this remarkable program, performed in a beautiful island setting.