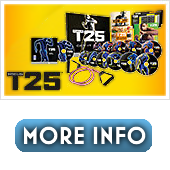 Focus T25
25 Minutes. 5 Days a Week. 100% Results.
The only thing standing between you and the results you want is TIME. Shaun T experimented for the last year to design a program that delivers the same kind of results you'd expect from an hour-long program, in under 30 minutes.
The result is FOCUS T25!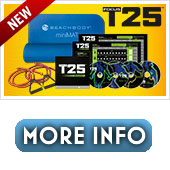 T25 GAMMA
Want to get it done better and faster? Prepare to take on the next 4 weeks of FOCUS T25™. These advanced GAMMA Cycle workouts and training tools were specially designed to burn more fat, and help you carve lean, strong muscles, fast. This expansion pack is also available in a DVD-only offering.
INSANITY 60-Day Conditioning Program
Shaun T will push you past your limits with 10 discs packed with cardio and plyometric drills with intervals of strength, power, resistance, and core training. No equipment or weights are needed, and you don't have to be in extreme shape to do it. As long as you're ready to dig deep, Shaun will help you get insane results in just 60 days.
Insanity—The Asylum

Winning the game, the race, the match starts now with INSANITY: THE ASYLUM™ workout program. Former track-and-field star Shaun T will push you to Dig Deeper® than ever with sports-specific training and drills inspired by pro athletes. During this 30-day program, he'll push you to build your speed, coordination, agility, strength, and power.
Insanity—The Asylum Volume 2
In THE ASYLUM Volume 1, Shaun T trained you inside the Athletic Matrix to amp up your agility, speed, and power. Now Shaun takes your skills to the next level with his INSANITY: THE ASYLUM Volume 2 workouts—the next 30 days of pro athlete training designed to get your body leaner, faster, and stronger than ever. So you not only defeat the competition…You CRUSH IT!
TurboFire®
So forget the excuses. Forget the gym. Now the hottest fitness classes come to you. This 90-day program will help you burn up to 9x more fat and calories than regular cardio does. To help you get started, TurboFire includes two low-impact workouts, plus the Fire Starter Class, which shows you the right form for each TurboFire move.
Turbo Jam® Fat Burning Elite
Get ready to fire up your results with the next level of Turbo Jam! Chalene and her crew are back with more of the Turbos and more fun! You get 5 explosive workouts plus you'll get 2 new calorie-blasting workouts and 2 FREE sculpting tools—Chalene's amazing Turbo Sculpting Band and her Thigh Toning Band for a sexy and shapely body.
Brazil Butt Lift® Master Series Base Kit
Launch your booty sculpting sky-high in just 30 days with Leandro's advanced breakthrough moves and tools. The 30-day Master Series program includes 3 new workouts that work multiple muscle groups at the same time, plus smart tools to help you sculpt lean, sexy muscle and get the tight, sexy bikini body of your dreams.